360 SOIL SCAN
360 SOILSCAN®
MEASURE NITRATE LEVELS TO MAXIMIZE NITROGEN EFFICIENCY
Don't guess how much nitrogen you have left in your soil – know how much.
360 SOILSCAN is a portable soil testing system that lets you accurately test nitrate nitrogen availability and soil pH right in your field and in about five minutes.
BUILT FOR THE FIELD
Understanding nitrogen availability in real time takes a system designed for the challenges of the field. With 360 SOILSCAN, you are able to have a soil testing system that is durable, portable, and just as accurate as a commercial soil lab.
Durable: Rugged case protects it from the elements
Expandable: Four sensor slots to allow for future innovations
Portable: Easily transported and operated from the back of your truck or ATV
Functional: Uses your iPad® as the operating platform and upgrades without new hardware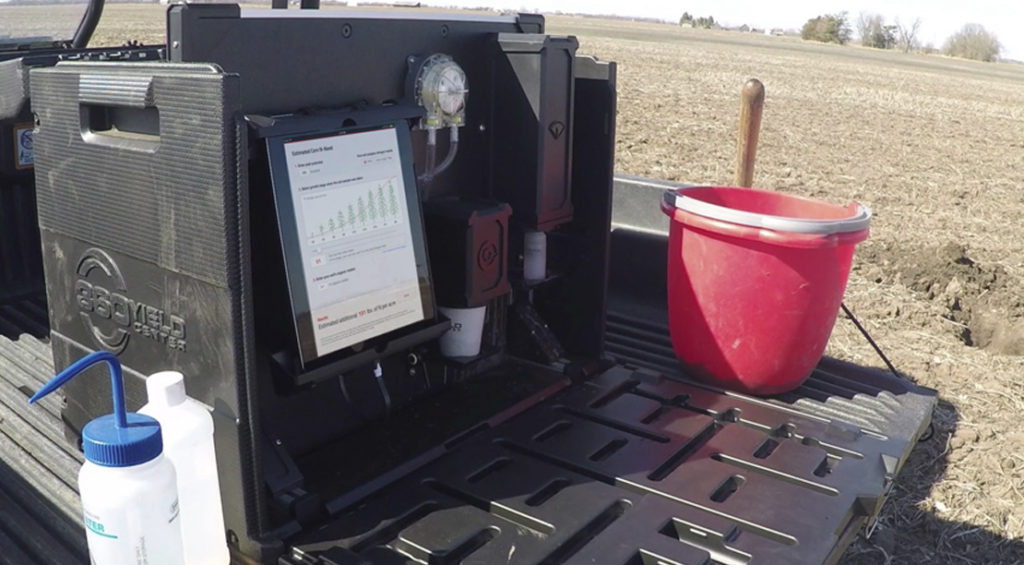 FIVE STEPS IN FIVE MINUTES
360 SOILSCAN gives you an accurate soil nitrate analysis, based on parts per million, in just five easy steps:
Step 1: Take a soil sample from your field.
Step 2: Place two scoops of soil into the provided cup and place in the mixing station.
Step 3: Mix the soil and distilled water into a slurry.
Step 4: Analyze the soil with 360 SOILSCAN.
Step 5: Use the Corn Nitrogen Need Calculator to determine an application recommendation based on the results.
TIMELY AND ACCURATE RESULTS
Real-time measurements mean nothing without accuracy, which is why 360 Yield Center participates in the Agricultural Laboratory Proficiency (ALP) Program – a national proficiency testing program that monitors soil analysis for consistency, accuracy and reliability.
So far, 98 percent of 360 SOILSCAN machines have passed this certification, giving them the same accuracy as traditional labs. (Register your machine here.)
A NITROGEN PLAN IN MINUTES
Knowing how much nitrogen remains in the soil and how much you need are two different things. With the Corn Nitrogen Need Calculator in 360 SOILSCAN, you are able to build customized nitrogen application plans instantly after measuring your soil simply by inputting your yield goal, crop growth stage, and soil organic matter.
EASY TO TRACK FIELD INTELLIGENCE
We have taken in-season field monitoring and soil sampling to the next level with the 360 YIELD PATROL®, a new 360 SOILSCAN companion app for your iPad and iPhone®.
Record and track soil samples using QR codes
Store soil test data digitally

Link information between 360 YIELD PATROL and 360 SOILSCAN

Track what is happening in the field with in-field visual scouting